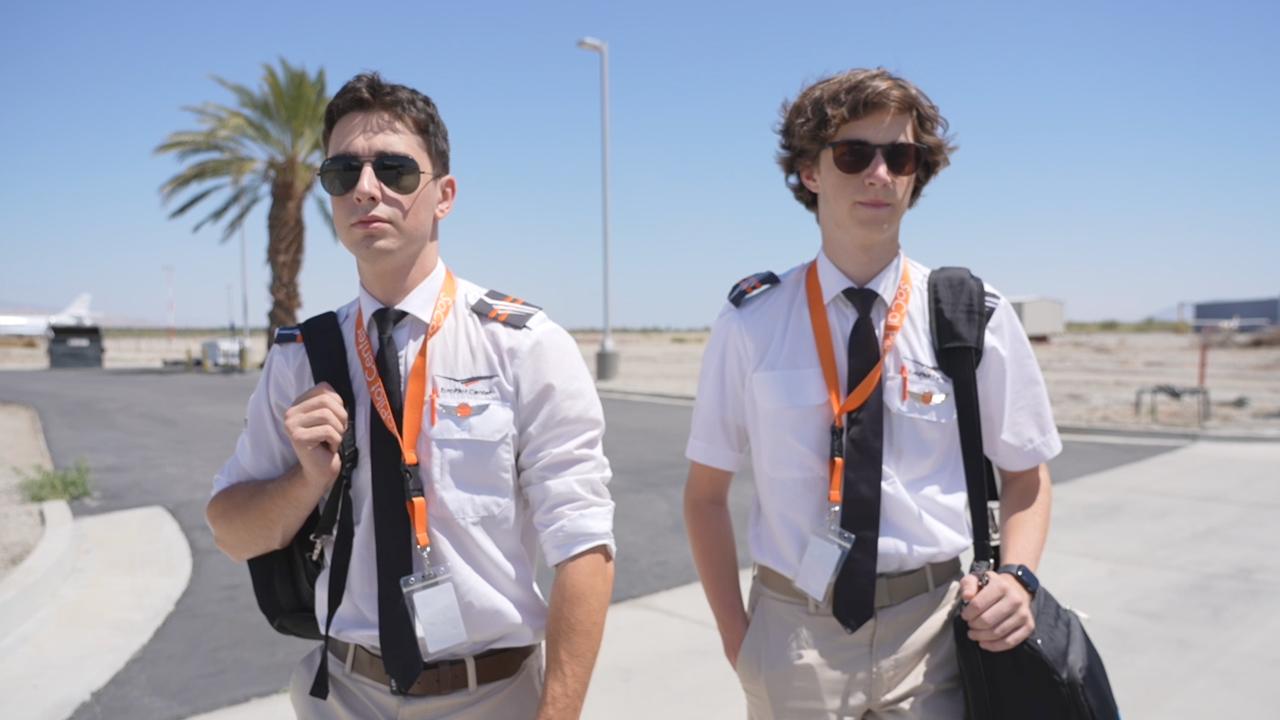 Why joining the Airline Career Program
2023/05/30 - Kay Vereeken (IG: @europilot)
Pieter-Jan and Josha are sharing their experience as EuroPilot Students. They'll tell you what flying truly means and how EPC's personalized approach is helping them to become top-notch Airline Pilots.
Why joining the Airline Career Program
"Two Airline Career Pilots, Pieter-Jan & Josha, are sharing their experience as a EuroPilot Students, in this short video. You'll learn what flying truly means to them, how it's a dream that comes true and how the personalized approach at EPC is helping them to become top-notch Airline Pilots."
Pieter-Jan, 19 years old... his story
Pieter-Jan is 19 years old and he is from Zedelgem (Belgium). He is enrolled in the Airline Career Program and just returned back from Phase 3 at our Campus in sunny California.
"Flying has always fascinated me and it also gives me an indescribable feeling when I am in the air. It's a way to unwind, because when I'm at the controls of my airplane, I'm totally unconcerned about what's going on on the ground. That is a fantastic feeling."
Josha, 19 years old... his story
Josha, also 19 years old, originally from Antwerp (Belgium), together with Pieter-Jan, is also an Airline Career Candidate.
"Flying is my life, it gives me an exciting feeling of freedom and I feel completely at ease amongst the clouds. It provides me a moment of freedom, a moment to learn new things and relax. Flying brings me peace, and it gives me a moment to reflect back on my life."
A day at the Campus in California
When Pieter-Jan gets up in the morning, he always starts with a fresh shower, and while having a quick breakfast, he takes a quick look at his Garmin App. A great way to check the general weather conditions. He thinks it is very convenient that the SoCal Pilot Center Campus is only a ten-minute drive from the housing.
When arriving at the school, the flight preparation consists of several parts, such as checking the weather (it's important to make sure the weather is okay at both the departure and destination airport, as well as enroute). Next they perform an in-depth briefing, including risk assessment while discussing mitigating actions before they depart. After this, they perform the Preflight Inspection.
Josha mentions that, during the walk-around around, they check the condition of the tires, the oil and fuel quantity etc. "If additional fuel is required, we simply call the fuel service at the Thermal Airport. They come over and even fuel the aircraft for us." he explains.
The best moment of the day begins when we all get into the airplane and the engine starts! An amazing feeling... #FlyEPC # FlySPC ;)
 
What "Becoming a Pilot" truly means
Josha describes: "Becoming a pilot for me is, seeking freedom and discovering new places."
His favorite Aviation Quote is:
"The hardest climbs, will get you the best views! "
"When I obtained my Private Pilot License a few weeks ago (and I got my wings), it gave me a tremendous sense of self-satisfaction. It also indicated that it was a very good start of the initial phase of my pilot career". 
 
Pieter-Jan describes: "Becoming a pilot, for me personally is a childhood dream, and it is insane to realize that every time we get in the airplane, or when we get a briefing, that we are one step closer to our dream."
My favorite Aviation Quote:
"The Engine is the heart of the Airplane, but the Pilot is the soul." 
"So when I got my wings, when I passed my Private Pilot exam, yeah, I don't know what all came over me, but it was a fantastic feeling, pure euphoria..."
Reasons why they chose EuroPilot Center
"Something great about EuroPilot Center is that the school provides a very personalized training program, and that is very useful since the instructors also know (on a super personal level) what your strengths and weaknesses are." explains Pieter-Jan.
"I heard a lot of good things about EuroPilot Center, in addition, the instructors are indeed very committed to you as a person and your training. You really experience this personal touch.
The instructors personally tracks your progress and that is why EuroPilot Center, in my opinion, is an outstanding school." explains Josha.
 
Most enjoyable moments – according to Josha
One of the most enjoyable moments was the flight to the Grand Canyon. "I have never seen it from the ground, but I think it was cooler from the air anyway!"
The flight to Burbank was also very special. We flew right across the busy International LAX Airport, where we also pretty much flew over the city of Los Angeles and we got to see the Hollywood Sign! That was very special.
 
The past, the future –  according to Pieter-Jan
Soon we go back to Belgium and we can train on the Multi-Engine (Diamond DA42) for the first time, something I'm very much looking forward to. After that we can go train on the I-JET. We exprienced so many memorable moments in California, but then when you think about it, there are also many exciting moments ahead of us, so I actually can't wait to move on to the next phase of the Airline Career Program (ACP).
Text and quotes by: Pieter-Jan Desmedt and Josha Van Looveren, Airline Career Students EuroPilot Center 2023.
By: Kay Vereeken – CEO/Founder IPCA
IG: @europilot